The information in this handout is summarized material from the iCan Bike program.  iCan Bike is a program that teaches children and youth with disabilities how to ride a two-wheeled bike.  
For more information about iCan Bike, or additional resources check their website: https://icanshine.org/parents/ican-bike-parents/
Ideally, choose a bike with both coaster brakes and handbrakes. The coaster brakes ensure the rider does not pedal backwards and the handbrake is used for stopping. It is easier for most riders to differentiate the two motor skills of "feet go forward" to make the bike go, and "squeeze with the hand" to make the bike stop.
The handlebars should be noticeably higher than the seat.
Choose the largest bike upon which your rider can place both feet flat on the ground while sitting on the seat. This gives the rider the ability to put both feet down when they feel insecure or when the bike comes to a stop, helping them feel safe and confident.
Choose a low-slung and compact frame. This is for ease of getting on and off the bike while still promoting an upright riding posture.
The pedals, at their highest point, should be no more than ¾ the height of the tire. Pedals higher than this cause the rider's feet and knees to elevate too high with each rotation.
Keep it simple and select a single speed bike.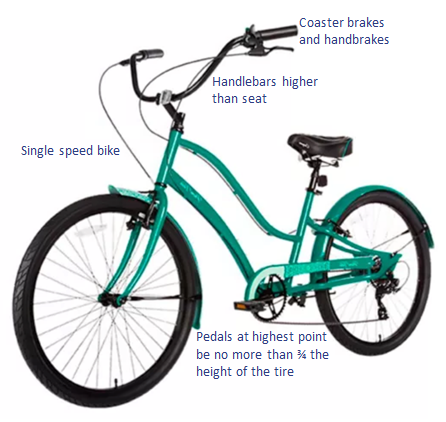 When choosing a bike, avoid BMX, freestyle, and mountain bikes. These bikes are not suitable for learning. The frame is taller and stretched out making it difficult for riders to get on and off. The length of the frame, along with the seat and handlebars being at the same height, forces riders to lean forward to reach the handlebars. This is a difficult position for novice riders to balance.
In Canada, these bikes are typically known as a Cruiser-style bike.
Please connect with one of TVCC's Bike Clinic team members for more information about bikes Rachel.Ireland [at] tvcc.on.ca or Cheryl.Scholtes [at] tvcc.on.ca