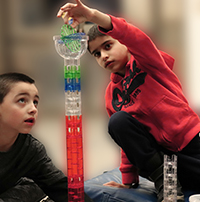 As a result of changes to the provincial funding model for Autism Services effective April 1, 2019, TVCC is now offering a range of Fee for Service options. Parents and caregivers can use their Ontario Autism Program (OAP) Childhood Budget, or any other funding source, to buy services which meet their needs.
To learn more about the new OAP through the Ministry of Children,
Community and Social Services, go to: www.ontario.ca\autism
Behavioural Services may be particularly beneficial for children and youth with a diagnosis like autism, developmental disability, attention deficit disorder or Down syndrome. However, no diagnosis is required to purchase services at Thames Valley Children's Centre.
Now available for purchase:
Speech-Language Services*
Occupational Therapy*
Physiotherapy*
* These services will provide enhanced options
to current offerings. Existing SLP, OT, and PT services continue
to also be available free-of-charge at TVCC and other local providers.
Who:
Children, youth and their families. No diagnosis is required to purchase these services.
Where:
We provide services in our centres, in the community and in homes across Southwestern Ontario.
* TVCC provides services in partnership with
John McGivney Children's Centre in Essex County.
What:
Our experienced staff will work with your family to identify your strengths and needs. We will help you meet your goals like supporting your child or youth to build skills, adapt to new environments or reduce challenging behaviours.
With improved skills, your child will have the opportunity to develop meaningful relationships with others and make the most of other learning opportunities in his or her home, school and community.
Access to Service
Call 1.866.590.8822 then press 1 to discuss which services best fit your family's needs.
The Intake Coordinator will ask you some basic questions (like name and contact information) and then will book you for a FREE Introductory Service Meeting.
What to Expect
We offer FREE Introductory Service Meetings or Introductory Service Calls, depending on the service you are interested in learning more about.
If you are interested in Individual Behavioural Treatment or Intensive Behaviour Intervention, we will book a FREE Introductory Service Meeting. This meeting gives you the chance to talk with TVCC staff about your family's situation to see what services would meet your needs. We will talk about our services, the costs and possible start dates. You can meet with a Behavioural staff, a Speech-Language Pathologist, an Occupational Therapist, a Physiotherapist, or perhaps a combination of staff, depending on your needs.
Once you have decided to continue, we'll ask for a deposit and book you in for a meeting with your Lead Clinician.
If you are interested in Group Behavioural Treatment, Support for Kids, Support for Parents/Caregivers, and/or Respite, we will book a FREE Introductory Service Call. A Behavioural staff will call you so we can get more information about your child and needs. Then we will discuss next steps.
Subscribe
Sign up to receive the Autism and Behavioural Services e-newsletter using our Subscribe button.
Join our Facebook page
County:
Chatham-Kent
Elgin-Middlesex-Oxford
Essex
Grey-Bruce
Huron-Perth
Lambton
All Counties