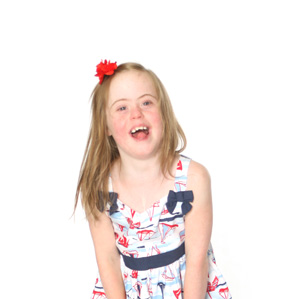 Cameron's bright eyes and beautiful smile can light up a room. But, life hasn't always been easy…  Diagnosed with Down Syndrome, Cameron has faced many of the complications associated with this condition, including respiratory challenges and a heart defect. Cameron has also been diagnosed with obsessive compulsive disorder and autism. She has faced many medical challenges including congestive heart failure – requiring two open heart surgeries – countless cases of pneumonia and difficulties with eating and gaining weight.
Through it all, her health care team from Children's Hospital at London Health Sciences Centre, and her therapists from Thames Valley Children's Centre (TVCC) have become like an extended family to Cameron. With each challenge she has faced, her family and TVCC have been there to provide the care and support that Cameron needed to thrive.
"The staff at TVCC have touched Cameron's life and are like extended family to her."

Cameron's Mom, Kim
With the help of a recreation therapist through Thames Valley Children's Centre, Cameron now enjoys swimming, sailing and biking with her family.