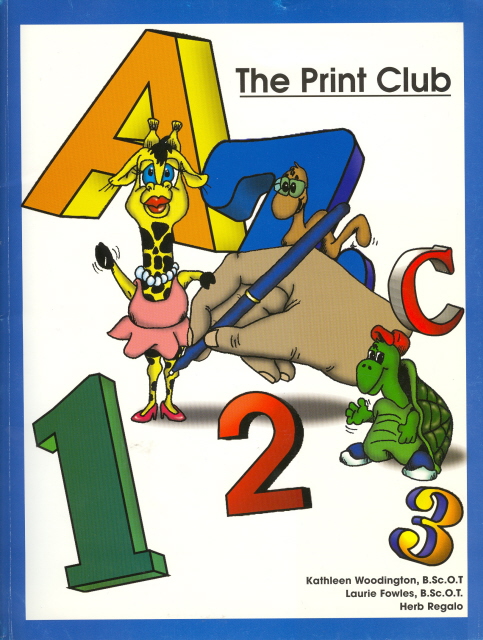 Written by:
Kathleen Woodington, B.Sc.O.T
Laurie Fowles, B.Sc.O.T
Illustrations by: Herb Regalo 
ISBN 0-9680415-2-3
      
Manual Printing Skills Are Very Important                      
         
A study by McHale and Cermak (1992) examined the amount of time school-aged children were expected to perform fine motor activities in the classroom. They found that 31-60% of a child´s school day in grades two to six consisted of fine-motor activities. Of those fine-motor activities, 85% of the time consisted of paper and pencil tasks. Consider the negative impact that poor printing skills can have on a child´s feelings of mastery and success when approximately one third of the school day is met with frustration when engaging in paper and pencil tasks.
What is the Print Club
A 50 page user guide
with 120 student worksheets
and monitoring cards.
The Print Club is a remedial printing resource designed for children who are experiencing printing difficulties.
Teachers, volunteers, educational assistants and therapists may use the resource to teach printing skills in small groups or on an individual basis.
The comprehensive, developmental and child-friendly style of The Print Club ensures that children learn correct printing skills through a fun and non-threatening approach. The program is so complete that it´s the only printing resource that you will ever need.
The worksheets in The Print Club are reproducible for instructional use.
Order Pricing: (cdn funds)
CDN: $54.55 each  (incl s&h&HST)
USA: $51.95 each (incl s&h no HST) 
Order
To place an order (including International orders or bulk orders),
contact 519.685.8700 ext 53364.
Email Inquiries: innovations [at] tvcc.on.ca
Mailing Address: Thames Valley Children's Centre
Attn: Innovations, Business Office
779 Base Line Rd E., London ON N6C 5Y6