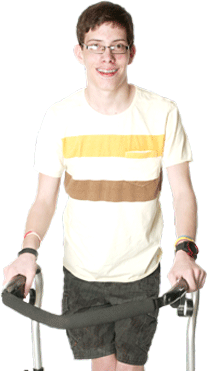 For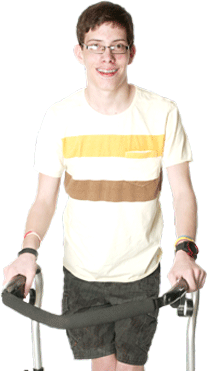 , life is all about making connections.
He is a natural story-teller with a comedic flair and a tenacious spirit that he uses to meet his day-to-day challenges, head on. Living with Cerebral Palsy doesn't stop Jeremy from doing what he enjoys most – or from trying new things.
Over the past 17 years, Thames Valley Children's Centre (TVCC) has played an integral role in helping Jeremy accomplish whatever goals he sets for himself. From playing sports, like basketball, soccer, skiing and golf, to participating in summer camps to volunteering and being an active member of his school community, Jeremy has done it all.
As he entered his teens, Jeremy became involved with the Ability Connections program at TVCC – a youth group that gets together for various events, and acts in part as an advocacy group. With the skills and confidence he has gained through the program, Jeremy has developed an ability to inspire others to be courageous and to rally change in the world around him. Jeremy's genuine and heartfelt words have inspired others to look at disability in a different light – including the owner of his favourite diner, who installed a handrail at their entrance after reading one of Jeremy's speeches (http://www.lfpress.com/2012/08/31/reader-to-reader-sept-1).
When you meet Jeremy, you are quickly won over by his natural charm and kindness.  It's easy to see how the connections he makes with others are genuine and lasting.
"Over the years the Centre has become like an extended family to me and others in my family. TVCC helps kids with disabilities in both big and small ways every day.  It is not an exaggeration to say that it has changed my life and been critical to my success so far. Without the Centre, I would not have the wealth of opportunities or possibilities that I am so privileged to have."
Jeremy