Who is this for?
This program is intended for children with physical disabilities (3 - 9 years) who require mobility aids (i.e., wheelchair, walker, canes)

What is this about?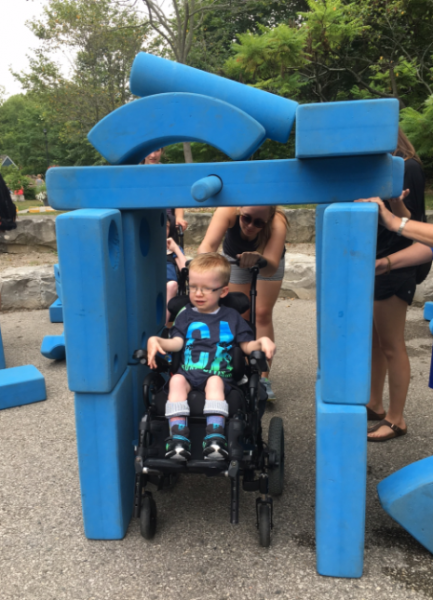 This half-day specialized camp is suited for children with physical disabilities who require assistive devices for mobility (i.e., wheelchair, walker, canes).  Each morning campers are welcomed with a fun craft followed by active games, sports, play, stretching, outdoor activities and swimming.  Community providers will be visiting us throughout the week to introduce different recreation opportunities.  The final morning will take place at Storybook Gardens* where we will explore some of the activities they offer.*Trip to Storybook Gardens on the last day, weather permitting.
This program is facilitated and supported by Therapeutic Recreation, Physiotherapy, Therapy Assistants and Volunteers. 

Download the flyer
Registration
Dates: August 10 – 14*, 2020
Time: 9:00 a.m. – 12:30 p.m.
Place: TVCC, 779 Base Line Road East, London
*Storybook Gardens on last day weather permitting.
Cost: $40 per child;
*Plus $8.25 Storybook Gardens entry fee paid the last day for the field trip
Register: Online registration opens February 10, 2020.
We will call you to explore your child's strengths, abilities and medical needs.
Parking: Visitor Parking, Lot 7, LHSC rate of $4 per hour and $12 daily max. Credit cards accepted. Accessible parking information is available at https://www.tvcc.on.ca/parking-779-base-line-road-east.
Information / Questions:
A Recreation Therapist from TVCC will call you to explore your child's strengths/abilities, share information about the program and confirm your attendance. Please contact Sasha Chircoski, TVCC Therapeutic Recreation, 519-685-8700 ext 53396 or sasha.chircoski [at] tvcc.on.ca if you have any program related questions.
Difficulty Registering?
Please contact us if you have questions, or require assistance.
Inside the London calling area: 519-685-8700, ext. 53367
Outside the London calling area: Toll Free: 1-866-590-8822, ext. 53367