Who is it for?
An online workshop for parents/caregivers of children/youth with autism residing in Ontario.
What is it about?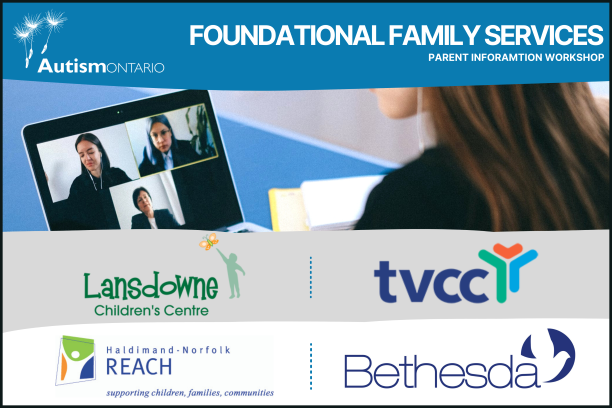 Join the Autism Ontario service navigators and Foundational Family Services (FFS) providers from southwestern Ontario to learn more about what FFS is and what is available to all families registered in the Ontario Autism Program (OAP).
Bethesda, Haldimand-Norfolk Reach, Landsdowne Children's Centre, and TVCC will provide an overview of the services they are offering in the upcoming months and information on how to register for the services. We will repeat this event quarterly to help keep you informed!
Please note, families registered in the OAP can access FFS with any participating service provider in Ontario – from anywhere in Ontario. Families can also register for events from multiple providers to best meet their needs.
This workshop will highlight the providers from the west region, but anyone in the province is welcome to join.
 Registration
Date: Wednesday August 11, 2021
Time: 7:00 - 8:00 p.m.
Location: Zoom online platform
Cost: None
Registration: Online registration here
Information / Questions:
Please contact us if you are unable to register online, at register [at] tvcc.on.ca or 519-953-5445.
This group will be facilitated on the ZOOM platform.  Zoom Invitations will be emailed the day before the session. Zoom requires a computer and data. Please ensure that you have enough data on your home plan that you do not go over and incur extra charges.