Mental Health Matters!
Who is it for?
The target audience for the Child Health Symposium includes: youth, families, clinicians (e.g., behaviour therapists, occupational therapists, physical therapists, speech language pathologists, recreational therapists, social workers, nurses, physicians, etc.), service leaders, researchers, educators, and undergraduate and graduate students
What is it about?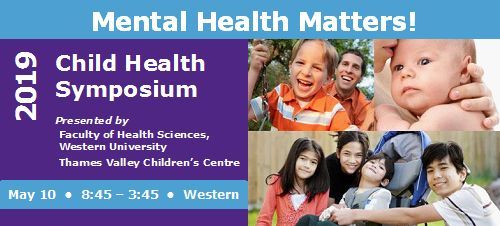 Sixth Annual Child Health Symposium 2019
 hosted jointly by Thames Valley Children's Centre and
the Faculty of Health Sciences, Western University
Purpose
The Child Health Symposium is a collaborative presentation of Western University's Faculty of Health Sciences and the Thames Valley Children's Centre. It provides an opportunity for clinicians, service leaders, researchers, educators, and students from all disciplines to:
Share their knowledge, ideas, and best practices for service delivery
Present current research interests, questions, and findings
Learn more about the child health research happening in our community
Network and build relationships and collaborations with others (e.g., youth, families, students, service providers, educators, researchers) in our community in the area of child health
Date: Friday May 10, 2019
Time: 8:45 a.m. - 4:00 p.m. (doors open for registration at 8:00 a.m.)
Location: Western University - Arthur and Sonia Labatt Health Sciences Building, 1151 Richmond St, London, N6A 3K7
Cost: Free; catered lunch & breaks
Register: Online Registration
Parking:  Parking will be available in the South Valley Lot. Rate is $1.50 for each half hour of parking up to a maximum of $18.00 (Visa, MC and cash are accepted).
Resources: Agenda & Registration package
 Information / Questions:
Difficulty Registering?
Please contact us if you have questions, or require assistance.
Inside the London calling area:  519-685-8700, ext. 53367
Outside the London calling area: Toll Free: 1-866-590-8822, ext. 53367